Producer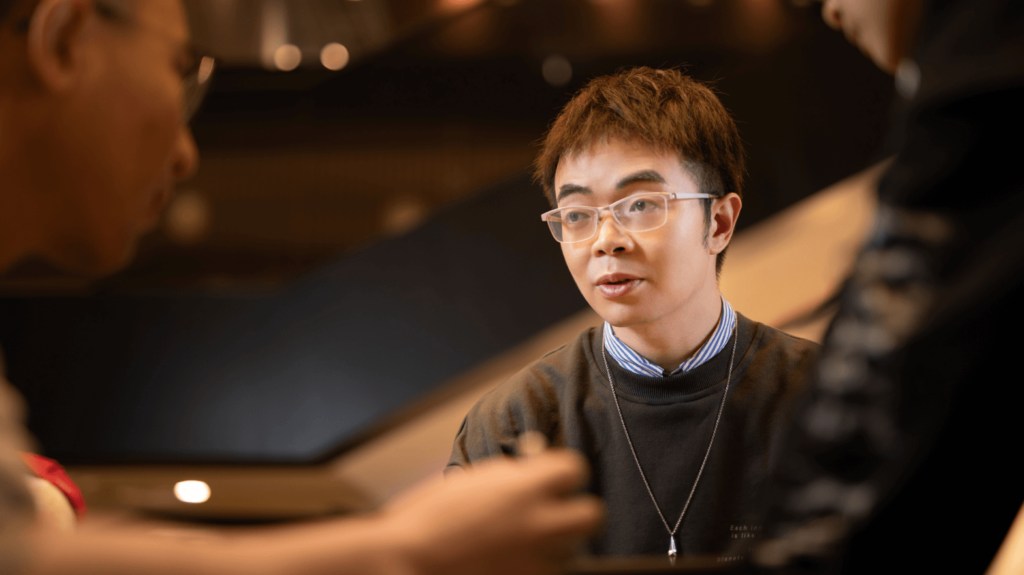 I've worked for several game companies, including foreign, domestic and SoE. Eventually I decided to join XD as I was attracted to its unique corporate culture, and it does turn out to be an ideal employer. It is exactly what a great game company should look like. I can start with three small details.
First, any office has a functioning TV and a projector. Any whiteboard has a marker and an eraser beside it. We won't find the TV or the projector not displaying, the marker dried out, or the whiteboard full of stains.
Second, here we will never find a chair that is shaking, a light that doesn't work, a door that is broken, or a meeting room that is not soundproof.
Third, the company offers three meals a day for free, which every employee find convenient and considerate. We don't bother to think about what to eat, order takeaway, and fetch our food every day. Even though the company has grown from only 300 people to around 2000 people, and the canteen area expanded only by a small half, we can still get a hot meal within a few minutes. The efficiency of the canteen is just amazing. The ordering process has also been improving as well. Originally, we didn't get to choose our dishes, then we used webpage, WeChat Enterprise to order, then we chose whatever we liked in the canteen and paid with our employee card, and now we've got free buffet. If we compare this dining experience to a product, its R&D and operation can make a good score of 90 points.
Things have been made easy for us. Taxi reimbursement is easy, and we don't have to collect all the paper invoices and fill out application forms. Fetching a delivery is easy, and we don't have to go through one parcel after another by ourselves at the reception. What's been said are just a few examples, all of which perfectly reflect XD's corporate culture: doing things smartly, and striving for the best. This can be seen in our training, in products related to a title, even in a single poster for recruitment. Everything here is carefully and beautifully designed, showcasing our pursuit of perfection, our dedication to doing the right thing.
Of course, nothing says more about such pursuit of perfection than our daily work, our design of games.
I found my job at XD vastly different from previous ones as my superior here, DASH, is a veteran gamer himself. He's an idealist with high aesthetic standard. Our platform, TapTap, is also vastly different from traditional platforms in China. TapTap is not KPI oriented, profit-oriented, or cash flow-oriented. It does not charge commission from developers, but focuses on helping players discover good games and bringing players and developers together. We at XD are players ourselves, and designers, artists and programmers play all kinds of games on a daily basis. We are well aware that gamers are smart. XD is committed to doing only the right things. We don't exploit people's weaknesses or allure players with lucrative tasks, as we don't play this type of games ourselves or see fun and meaning in them. What we create is what we truly love, and we believe that with good design, the fun and joy we get out of it can be felt be more. Since our leaders are real game lovers, we make games with both our hearts and minds. Our games rely not only on data, A/B testing and market research, which are rigid but lifeless, but also on our own feelings towards them. We think over their gameplay, as well as the value they can create for players.
In one of the most-viewed posts on Zhihu, a Chinese Q&A website, there is heated discussion about why few 3A games come from China. I've worked on PC game, browser game and mobile game, and my experience told me that one of the reasons is the lower cost of browser game and mobile game. Compared with 3A game, browser game and mobile game can generate larger revenues with relatively smaller investment. There have been many successful stories. No wonder few companies are willing to go all-in on 3A games, which is much more challenging. XD started with browser games as well, but it later realized that this growth model was unsustainable. So a few years ago, the company decided to shift its focus to R&D. As a result, three UE4 projects were launched, and we have been constantly recruiting new talent and bringing in leading figures from various industries. We are determined to go for the high hanging fruit, raising the standard for design, art and programming, summarizing methodologies, and upgrading technology. This undoubtedly improves the planning and management of games. For example, back then, it took only 20 people and one year and a half for a game to go live, with only 4 to 5 designers. Nowadays, a project may need over 20 designers, let alone people for other roles, and the total time span may be as long as almost 3 years. The systems are still the same, but with over 20 professionals working on it, the overall quality of the game is much higher. The reason for this change is that we have set higher standard for ourselves. A game can be produced in manifold ways, but creating our own content is completely different from "borrowing" content from others. We have to deliberate on every element, experiment with various plans, work out the best solution, and conduct multiple iteration and polishing. All these take much time and effort, and can only be done by ourselves. Yet skills are honed throughout this process.
Design is a luxury, which requires heavy investment in time, money and patience. What makes XD stand out is that it attaches great importance to design and gives creators enough freedom. Good luck may help one succeed in going for low hanging fruit, but accumulation and patience are needed when tackling a hard nut. At XD, we're more interested in the latter. That's why we have been recruiting more talent, building our team, upgrading our technology, and creating our own IPs. If you love games and would like to devote yourself to the gaming industry, XD might be the right place for you. Your time here will become the lifelong treasure of your career.
These are just my own experiences and thoughts about XD. You might find it too good to be true, but this is simply because I really enjoy what we do here, and I'm really proud of who we are.