Audio Creative Director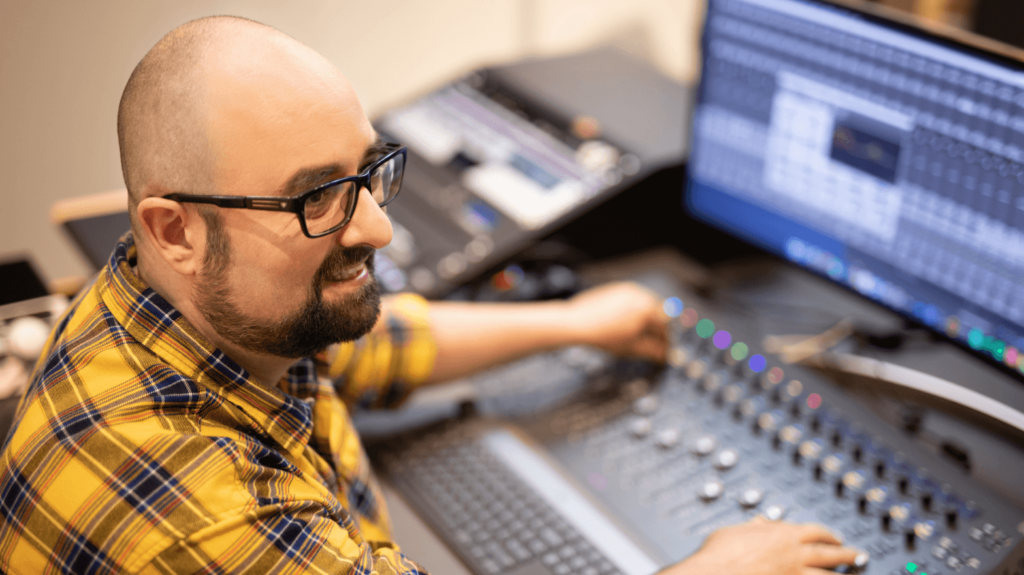 With over twenty years of experience working in professional audio post-production studios and international film schools, Jeremy has witnessed a considerable amount of technology changes in the sound studios and the industry trends. His career has held many faces as a professional sound designer, mixer, and music composer for feature length films, television series, animations, video games and mobile apps.
Originally hailing from Southern Alberta, Canada, Jeremy's audio career began humbly with his childhood friend Ben Bylsma as a pair of teen aged radio co-hosts of a weekly one-hour rock show in his hometown of Pincher Creek. He moved to Vancouver in 1998 to attend audio engineering school at The Columbia Academy of Broadcast & Recording Arts.
After graduation he continued his original radio work as a tape operator at Vancouver's QMFM and CFUN radio stations. His audio post-production career would begin shortly afterwards when he started working in the SFX editorial department at Ocean studios on the Toei animated series Dragon Ball Z. He would later move to the dialogue editorial department for the English dubbing of the 52 episode, Bandai animated series, Gundam Wing. As his audio career evolved, the vast Gundam franchise provided many spin-off series, including a re-dubbing of Mobile Suit Gundam, the original series that launched the franchise in 1979. His work on the Gundam franchise included three feature-length animations (Mobile Suit Gundam Wing: Endless Waltz, First Gundam, and Mobile Suit Gundam: Char's Counter Attack), as well as five Sony PlayStation titles. Jeremy continued working with many animation clients like Bandai, Viz Media, Toei, Sunrise, and Hasbro on shows like New Zoids, Hamtaro, Project Arms, and One Piece.
He primarily worked out of Ocean Studios and Westwood Media in Vancouver, British Columbia, as well as Blue Water Studios and Sundae Sound in Calgary, Alberta.
He has mixed and/or sound designed many films that have premiered at festivals including the Vancouver International Film Festival, Shanghai International Film Festival, New York Film Festival, Havana Film Festival, Sundance Film Festival, Hot Docs Film Festival, and in 2012 he sound designed and scored two animated films "Tam" and "Swift", the latter of which won the award for Best Animated Short Film at the 2012 Toronto International Film Festival.
Jeremy also has a musical performance background playing acoustic guitar, bass guitar, keyboards, harmonica and singing. His mother was a piano teacher and children's playwright musical composer, and both of his parents sang regularly in the church choir. He has performed in several independent Vancouver rock bands, has had songs played on Vancouver and Calgary FM radio stations, and was lucky enough to get a chance to perform live at an outdoor celebration musical stage at the Vancouver 2010 Winter Olympics. He has scored two Canadian television series, two web series, has sync license placements of 10 of his original songs in feature films, composed for over 25 short films, and received a Leo Nomination in Vancouver for Best Original Score in a Dramatic Television Series in 2011. Soon after, he joined into an official partnership as a co-owner of Rukkus House recording studios in Vancouver, and over the next few years he worked on many feature films, documentaries, television series, and video games for clients like EA and Capcom.
After 16 years in the Vancouver post-production industry, he accepted a new job offer as the Head of Sound Design at the Shanghai Vancouver Film School in 2014, and he currently resides with his wife in Songjiang. In addition to running the sound design department where he sound supervised over 60 graduation films, he has also been able to work on an animation for the Songjiang Police Department, commercials for "DJI Osmo" and "Mighty Oil 多力", mixed a feature length Chinese festival film "Country Detective 江湖佬", and was the sound supervisor and lead sound designer for CCTV's six-episode wildlife series "Blue Land 蔚蓝之境", which premiered during the 2020 Spring Festival and earned a score of 93% on Douban.
What games did I like playing when I was growing up?
I'm an older guy now, so I obviously loved Donkey Kong and Pacman And Mario Bros. When Dragon Slayer came out it was the first video game that looked like an animated cartoon and that was mind-blowing for all of us. Later I got into the Tony Hawk skater games, and Tomb Raider. I like adventure games. Laura Croft Run and Star Fleet Command are my current addictions on my mobile phone, I still like solving puzzles and building worlds.
Why did I come to Shanghai?
I decided to leave Vancouver and move to Shanghai in the end of 2014 to help open the Shanghai Vancouver Film School where I had been offered the job as the Head of the Sound Design Department. I did not speak any Mandarin and, aside from the core management team, I only knew one other person in Shanghai who was to be my first teaching assistant. The sheer scale and magnitude of life in Shanghai compared to Vancouver obviously overwhelmed me at first, but I quickly settled in and adapted to the city as much as possible. During my tenure at the film school I sound supervised all of the student short films, many of which have now won festival awards and nominations. Six years later and I am living in Songjiang, happily married to a Chinese wife, and take the Shanghai Metro in to work every day.
Why XD games?
Since I have been in Shanghai I have observed the phenomenal speed and growth of the Chinese mobile game industry, one that I believe will soon eclipse the film and television industries as daily gaming becomes the relaxation media of choice for more and more people. Now that smart phones are so powerful, the quality and technicality of the new mobile games has created an entertainment media form that is here to stay. So many game companies all seem to be focusing on shooter games, but this is not an interesting genre or story telling form in my opinion. XD seems to have many other styles of games and the people here all seem to really want to be part of making great quality games and not just cloning other shooters.
How is the work feeling?
So far, I have felt very welcomed by everyone here. I am an early riser every day and usually one of the first staff in the building each morning. All of the security guards and cleaning staff are very friendly to me and greet me with big smiles each morning. I think they are secretly trying to practice their English with me, but really it is me practicing my Chinese with them.
How is the company spirit?
There is a lot of positive energy flowing in this company and I noticed it almost immediately when I came here. The general vibe and attitude of all the co-workers I have met thus far has been one of true respect for different their crafts and genuine excitement to be part of this growing team. Every floor is buzzing with energy as passionate gamers, technicians, artists, engineers, producers, designers, and so many others all work on something they truly enjoy. This is a gift in life to be able to say that you genuinely enjoy your job, and we are fortunate to be here.
What is our future?
Bright, very bright. This company is founded by people who love gaming, they understand the needs of the financial marketing sides, but more importantly, they lead by the example that quality and creating good games that people love to play will bring the rewards of success. I am quite pleased to have found a new home here at Xingdong.